Orangutans conservation tour
at Tanjung Puting National Park
Explore the rainforest of Kalimantan island, one of the world's biggest islands. We will bring you to explore the habitat of Orangutans, Proboscis Monkeys, macacaques, gibbons and many more wildlife in their natural habitat.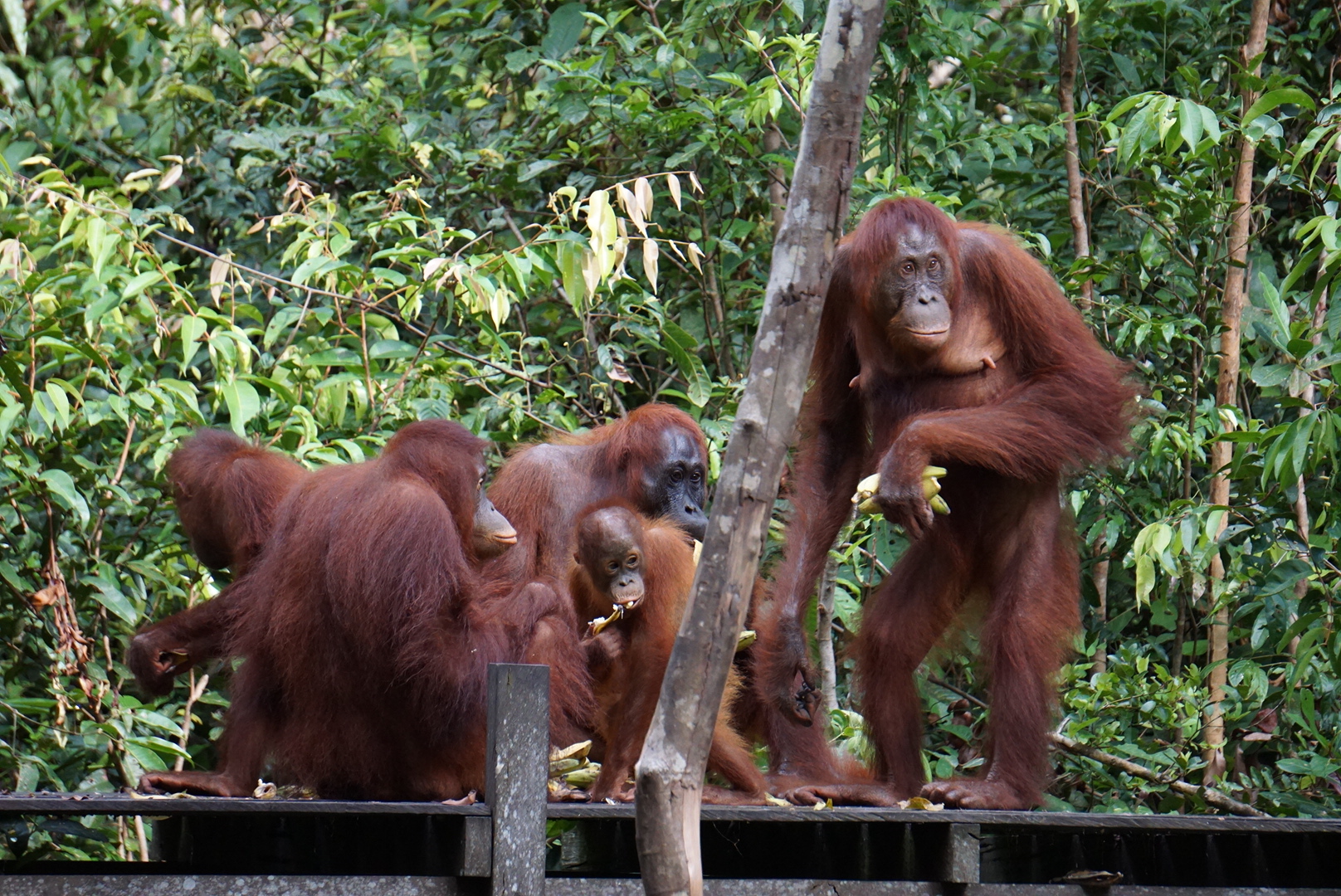 Orangutans at Tanjung Puting National Park
The Orangutan species that lives in Tanjung Puting National Park, Central Kalimantan is Pongo pymaeus which in endemic to this island. The habitat continues to vanish at an extremely high rate due to deforestation, palm oil plantation and climate changes. Taking all of this into account, Orangutan rehabilitation centers have been established as to ensure the survival of this animal.
Orangutans 3D/2N Tours
DAY 1 : Pangkalan Bun – Kumai – Tanjung Harapan Camp (L, D)
Upon arrival in Pangkalan Bun airport, you'll meet our staff and transferred to Kumai harbour for boarding the boat we called 'Kelotok'. Leaving Kumai river, you'll have an opportunity to see the river's wildlife. Kalimantan island has so many rivers therefore, boat is the main means of transportation here. Along the Sekonyer river we can see bands of Proboscis Monkeys - the endemic monkey species in Kalimantan, Long-tailed Macacaques, Red-leaf Monkeys, Silvered Langur and may species of birds along the riverside. Here you also can witness thousands of high structures like hotels with tiny holes, such as an semi-wild swift poultry to harvest its nest. While cruising the Sekonyer River, we can see unique vegetation called mangrove, before we stop at Tanjung Harapan Camp to watch Orang Utan feeding time at 3.00 p.m. After watching the Orangutans, then we will continue the cruise and you will stay overnight in the Kelotok boat. You'll have time to relax, enjoying fresh air or do some wildlife spotting in the roosting trees while the boat find out a good place to harbour for the night.
DAY 2 : Pondok Tanggui – Camp Leakey – Pondok Ambung (B, L, D)
After breakfast, we continue the cruise to Pondok Tanggui, to see Orangutan feeding time at 09.00 a.m, then continue on to Camp Leakey, the legendary Orangutan Rehabilitation Camp, where Prof. Birute MF. Galdikas starting her study in early 1971. Boating a side creek where you will see the magnificent reflection from the vegetation along the river, if you are lucky, the fresh water crocodiles and other wildlife species could be spotted along the river bands. After lunch we will depart to Camp Leakey where we can spend the rest of the day by hiking through the Borneo rainforest, exploring peatland swamp forest, lowland dipterocarp habitat, searching other wildlife or enjoying varieties of fungi, orchid, slipper orchid, mosses and ferns, then we stop for another Orangutan feeding time at 02.00 p.m. Afterwards, we return to the boat and stay overnight on the boat again.
* You have choices to stay overnight in the black water river then having a night trekking in Pondok Ambung Research Station for nocturnal wildlife, or continue sailing back down to the main river then finding out fireflies on the trees. So you may not have the night trekking and you will leave the park on the third day after the breakfast time from the Nipah Palm habitat.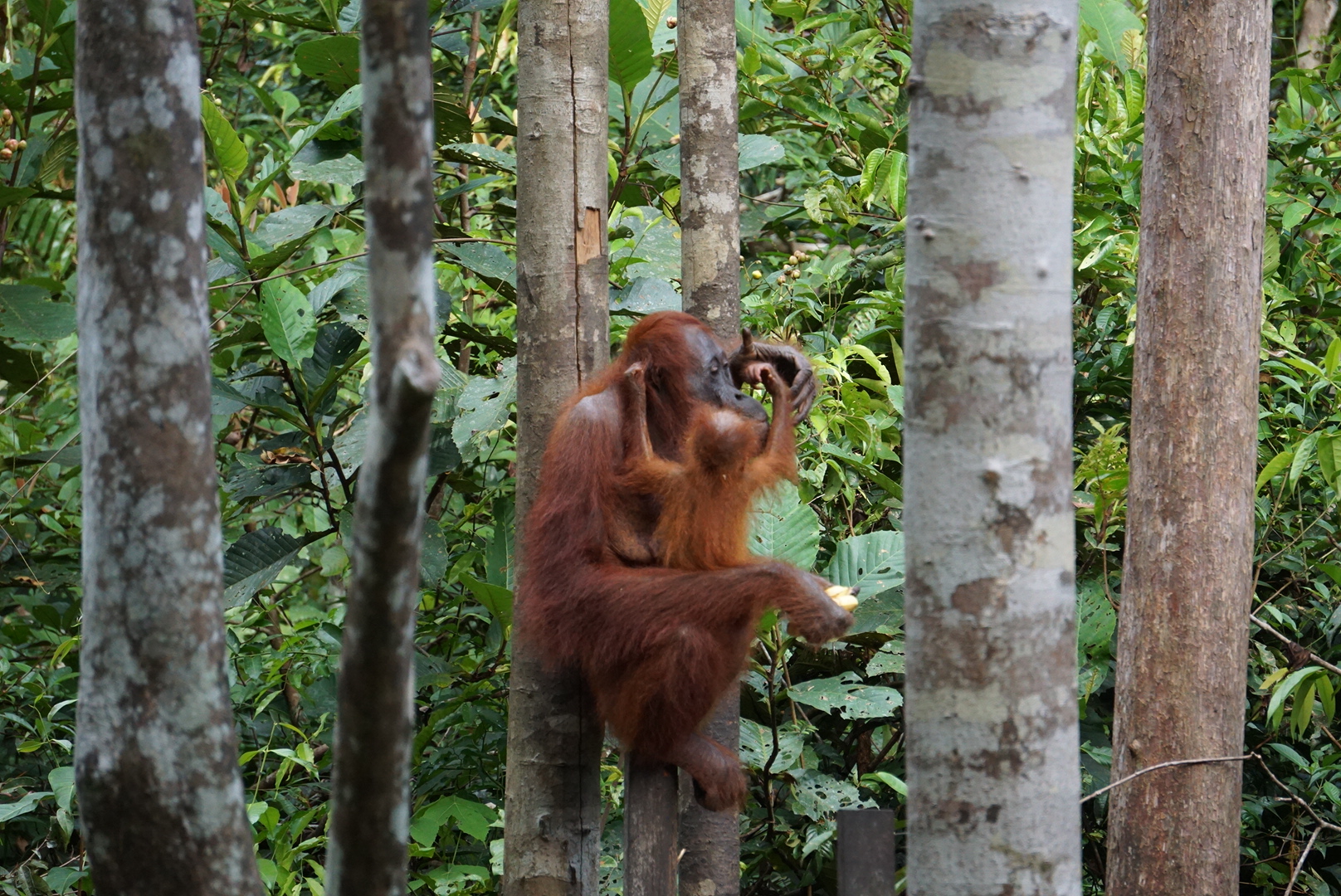 Mother and baby Orangutans
DAY 3 : Pesalat Reforestation – Kumai – Pangkalan Bun (B, L)
After breakfast, continue by Kelotok down the river to Pesalat Reforestation for planting trees. You'll have a short trekking on the wooden jetty, then we will visit the forest tree seedlings. The aim of this seedling centre is to enhance the availability of trees that become food sources for the Orangutan and to rehabilitate the land after destroyed by the wildfire and illegal logging.
Enjoy your coffee break in the boat while exploring the river in the morning, you could meet Orangutan foraging in the trees around river banks. Long-snout crocodiles also often basking on the sun on the river bank when the weather is really good. Departing to Kumai, then you'll be transfered to Pangkalan Bun airport for your next flight or you can extend your trip to our Dayak Tribe Tours or Wild Orangutan Tours.
Note: this itinerary may not fit during peak season (July-Aug-Sept), since all the tour will be finished at 09.00 a.m. Please inform us about your flights schedule or if you want to continue your trip. If you still have time before your flight, we could provide a free city tour for approximately 3 hours.
Price per pax for Domestic (Indonesian Tourists):
1 pax: IDR 6.800.000

2 pax: IDR 3.500.000

3 - 4 pax: IDR 3.000.000

5 - 6 pax: IDR 2.800.000

7 - 8 pax: IDR 2.600.000

9 - 10 pax: IDR 2.450.000
Price per pax for International Tourists:
Solo traveller: USD 500

2 pax: USD 320

3 - 4 pax: USD 290

5 - 6 pax: USD 270

7 - 8 pax: USD 260

9 - 10 pax: USD 245
The price include:
Return transfer from Pangkalan Bun (transfer in and out from the Airport)

Clean and proper Kelotok: A wooden houseboat with its accommodation (bed arrangements, mosquitoes net, western toilet and shower, LED lamp powered by generator or solar panel)

Professional & certified English speaking guide, trained by the National Park authorities.

Good cook for serving meals on boat

Meals and drinks (3 main meals, snacks, free flow of mineral water, tea, coffee and softdrinks). We have coolbox to keep your drinks cool.

Admission fees

Park entrance permit (tourist and boat entrance fees)

Ranger donation

Local taxes
Price not include:
Personal expenses

Hotel/homestay/lodge (for extra stay before/after the trip)

Alcoholic drinks

Insurance

Tipping

Permit SIMAKSI for filming/video maker and/or flying drone.
Drone fees is IDR 1,000,000 per drone.
Bed arrangements on the boat:
Boat maximum capacity for 6 - 10 people sleeping on the boat. After dinner, crew will set up the mattress, clean pillow, and mosquito net. Each people will have a mattress (double or single). All side of the boat will be covered, and only left one or two as a ventilate window to keep the fresh air.
Additional stay in the local Homestay, price $60/night
There are homestay in the village around the National Park, managed by local people of Sekonyer village. The room is a simple room with fan and bathroom.
Additional stay in Rimba EcoLodge, price starting $85/night
Surrounded by forest and accessed only by boat, the lodge is a great spot for enjoying the natural wonder of Indonesian Borneo, from the troop of Macaques that call the site home, to the Proboscis monkeys across the water and the Orang Utan that can be observed at the Tanjung Harapan feeding station, just a few minutes boat ride away. The Lodge provides a base from which you can explore the surrounding rainforest and Tanjung Puting National Park. Take a walk from your room along the bird walk, hear the plaintive cry of Gibbons, bird chirpings and the resident Macaque monkey troops from your comfortable room, set right on the edge of the gently flowing Sekonyer river. There are 3 different room types which has AC and hot shower: Amethyst, Emerald and Diamond.